Have officially fallen in love with this album, so this (akin to anything I review by The Script) comes highly recommended from me. I will give one warning: there is a bit of
swearing
in this album, so if you're going to blast it (which is the best way to listen to it), make sure no little ones (or your parents, I suppose?) are around!

Also, as far as I know this is the Canadian version of the album. The U.S. version included a second version of "Good to You" and an acoustic version of "Cross My Heart," neither of which I've listened to, but this album is fantastic by itself, so...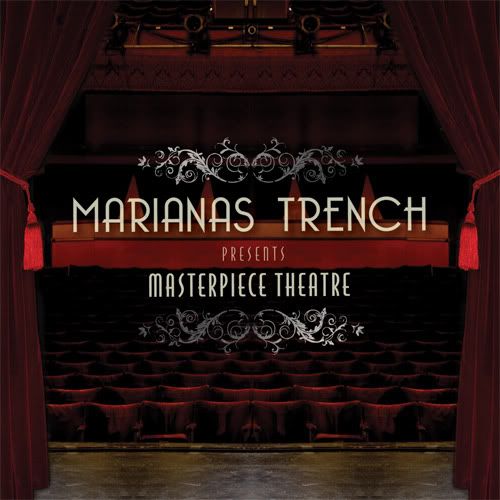 Marianas Trench; Masterpiece Theatre
Release Date (Canada): February 24, 2009
Language: English
Genre(s): Rock, Punk Rock, Alternative, Adult Alternative (Wikipedia calls them "Pop Punk" and their website calls them "Punk/Emo Rock")
Purchase: Amazon


Downloads:
Megaupload
Mediafire


01. Masterpiece Theatre I
02. All to Myself [MV]
03. Cross My Heart [MV]
04. Beside You [MV]
05. Acadia
06. Masterpiece Theatre II
07. Sing Sing
08. Good to You (ft. Jessica Lee) [MV]
09. Celebrity Status [MV]
10. Perfect
11. Love Dearest
12. Masterpiece Theatre III


As I said above, I'm absolutely in love with this album, and I'm upset that it hasn't gotten more exposure (that I know of) in the U.S. At least not enough that I'd heard anything by Marianas Trench before.


( Read the rest of the review.Collapse )


Have I made it clear enough how much I love this album? There are times when I wish they'd kept up the differentness of their sound, rather than veer on what every other alternative rock band has done, but when they go different, they do it really well. The twists and turns of the entire album are so cool, especially the final track. Definitely an A. Get ready for nostalgia-inducing alternative rock with a side of music surprise.


-Kiz